Here's my first attempt at writing something useful on this site. Don't hate me if this has been said before on a million other sites.
The WordPress post_class() function normally spits out a bunch of semi-useful classes by default, but unless you want to have to use classes like .post-734 in your stylesheet, sometimes you need to go a step further.
Over at Digging into WordPress, Chris Coyier has an easy tip on how to add custom classes to post_class().
As it turns out, it's trivial to add a custom class to a post. Here's all you have to do:
<?php post_class('classname'); ?>

That's pretty self explanatory, but you've still got to hard-code that class into your template. What if you want to change it on a per-post basis? Well that's easy: Just use a custom field. Here's how:
Step 1
Create your custom field. Let's use "custom_class" as our name and "fancy" as the value.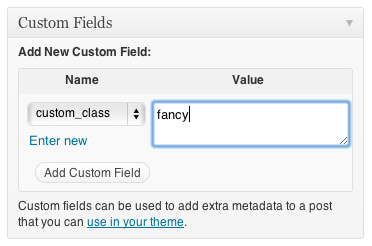 Step 2
Set the value of the custom field as a variable inside your loop.
<?php if (have_posts()) : ?>
	<?php while (have_posts()) : the_post(); ?>
		<?php $custom_classes = get_post_meta($post->ID, 'custom_class', false);  ?>

Step 3
Now, let's use that variable in post_class(), instead of the hard-coded value we saw earlier:
<article <?php post_class($custom_classes) ?> id="post-<?php the_ID(); ?>">

That's it. You can use the same custom field multiple times in a single post. The false you see above means it will return an array of values, so if you've got ten "custom_class" custom field values, you'll get all ten as custom fields in that post.

This simple technique is already in use on this site, and it will allow me to eliminate a plugin on this year's redesign of The Yule Blog.
I've created a gist on GitHub, so go fork it or comment there, if that's your thing.