It's no secret that there were some not-so-great NES games. Standards were different back in the day, and we didn't exactly have a lot to choose from. Even making the cover of Nintendo Power was hardly a guarantee of quality or that a game would become a beloved classic.
When I had the idea to write this series, I knew it was only a matter of time until I started running into the clunkers. I was just expecting to get a little deeper than the third issue before I ran into a game that was literally painful to play. I'll get into that in a minute.
Track & Field II is the cover game of the third issue of Nintendo Power, from November/December 1988. This is prime material for me because I clearly remember owning this issue. Somehow I owned all of these early issues, even though I didn't get an NES until Christmas of 1988.
With that in mind, I obviously wouldn't have been a Nintendo Power subscriber when this issue was current, and I'm not certain I even was until the Dragon Warrior giveaway, unless I got that as a subscription renewal. Yet somehow I remember owning these. A mystery for another day, I guess.
I never played this game when I was a kid, but it's exactly the kind of game you'd see at other people's houses when you were there, but they'd never play it either. You'd just play Contra or Mega Man. There's probably a good reason for this.
Painful to play
I said this game was literally painful, and I meant it. The game is based on the 1988 Summer Olympics, and like competing in the Olympics, Track and Field II takes years of painful training to master. Most of the events are just pure mashing on the A button, interspersed with the need to occasionally hit the B button at precisely the right moment. Play most of these events long enough and it literally hurts.
So the game's not great, but it does have some highlights. The game sprites are huge and it makes great use of the NES's limited palette. The Olympic mode, which lets you choose from ten Cold War-era countries, and gives you an opening ceremony and named athletes, is a neat feature, but it has a downside — you have to play through the events of each day, meaning you have to actually get good enough to play through at least three events. If you get through an entire day's events, the game will give you a password, allowing you to start at the beginning of the next day.
Day 1 of Olympic mode consists of fencing, freestyle swimming, and the triple jump. I have no idea what Day 2 consists of.
Like a lot of games of the 8-bit era, the game manual does a lot of the heavy lifting. Don't expect anything to make any sense unless you read through the instructions. While the manual is written in clear English does an admirable job of explaining the controls for each event, don't expect much help from Nintendo Power. It doesn't do much beyond describe the events, although the canoeing map is useful.
The events
I'm going to briefly go over each of the 12 main events, but skip the special events since I never actually got as far as playing any of them. I can't imagine they made the best events nearly impossible to get to, although now that I think about it, that seems exactly like something Konami would do. Anyway, let the games begin.
Fencing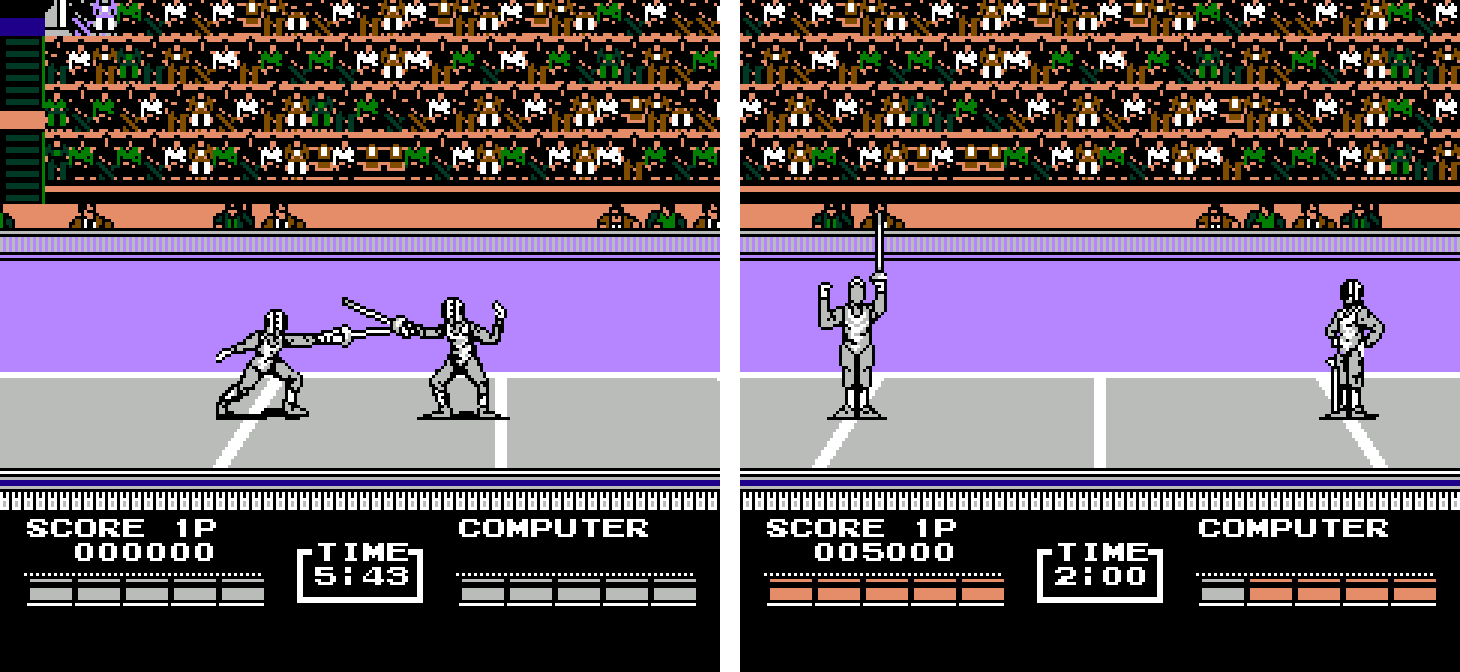 Fencing is mashing A to attack, and occasionally holding B to defend. Sometimes I could win pretty easily, sometimes I couldn't score a point to save my life. There's no studying your opponent, waiting for a tell, or anything that seems like you might actually do in fencing (I have no clue, to be honest). If you're not attacking or defending, your opponent is attacking. You're always pushing at least one button. If the computer were holding a controller, it would be be doing the same. It's not a fun event, but you can at least mash your way through it.
Score: 2/10
Triple Jump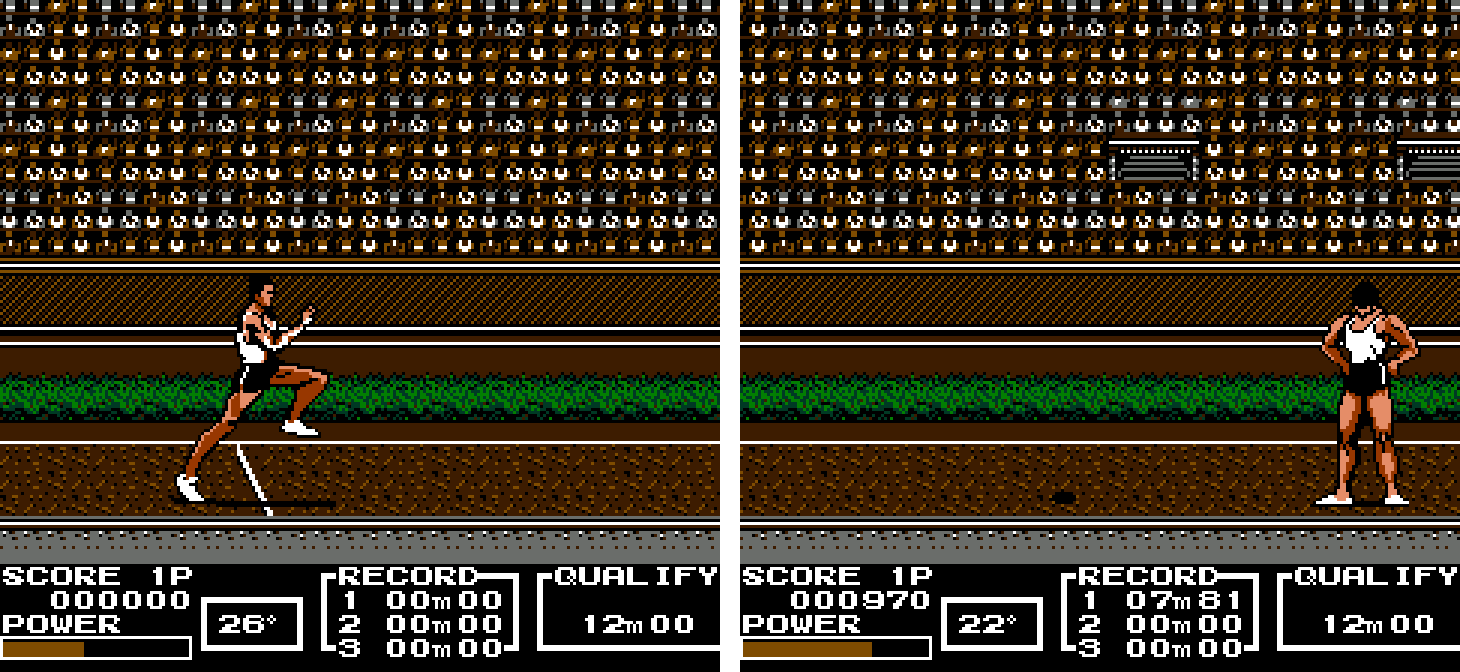 Here you're not just mashing, but mashing as rapidly as humanly possible. You mash A to build up speed, and then — and here's where it gets confusing — you tap B for a split second to jump. Exactly how much of a split second you hold on B for determines the angle of your jump. Going from button mashing, to quickly tapping while watching your power meter, the approaching jump line, and your jump angle is a lot to track mentally. I was able to complete a few jumps by using rapid fire on A, but there's not really any trick beyond timing on the B button to getting good distance on your jump. It seems like you're aiming for a 45° angle, but how long you need to hold on B for to get that, I have no idea.
Score: 1/10
Freestyle Swimming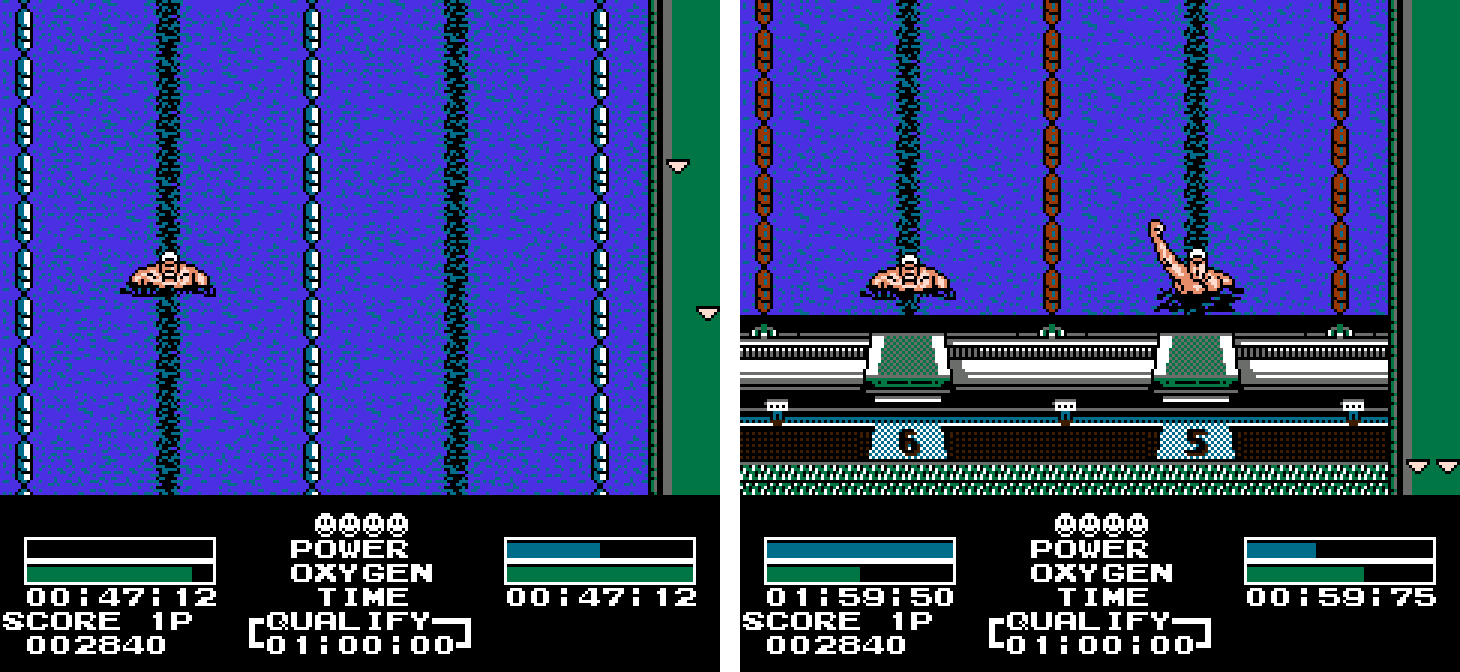 Yet more mashing. Even with the instruction manual, I couldn't quite figure this one out. Eventually I turned on rapid fire, held down both B and A, and just won the race. Maybe I just wasn't mashing fast enough.
Score: 1/10
High Dive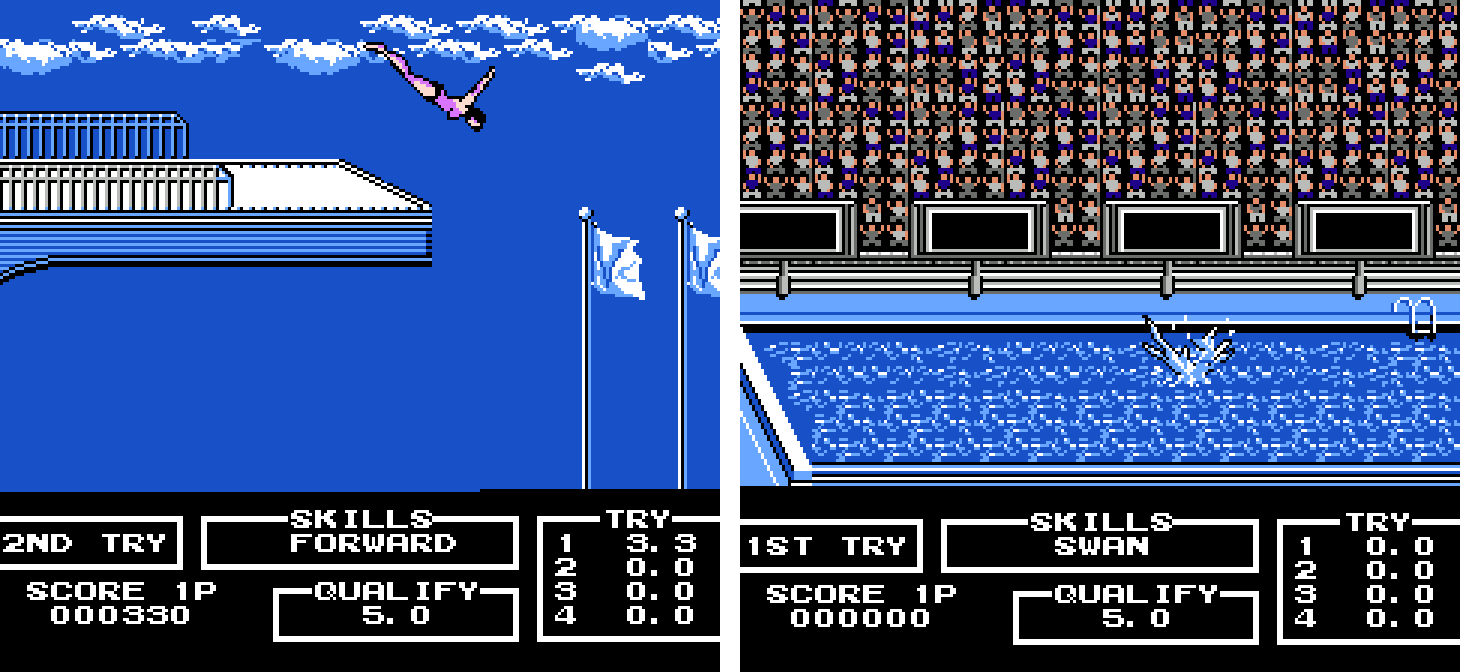 What is even happening with this one? You cycle through dive styles with A (why not left and right?) and then jump with B. Mash some buttons while you're in the air and you'll do different moves during your jump. No matter what, you end up in what looks like a terrible entry.
Score: 3/10
Clay Pigeon Shooting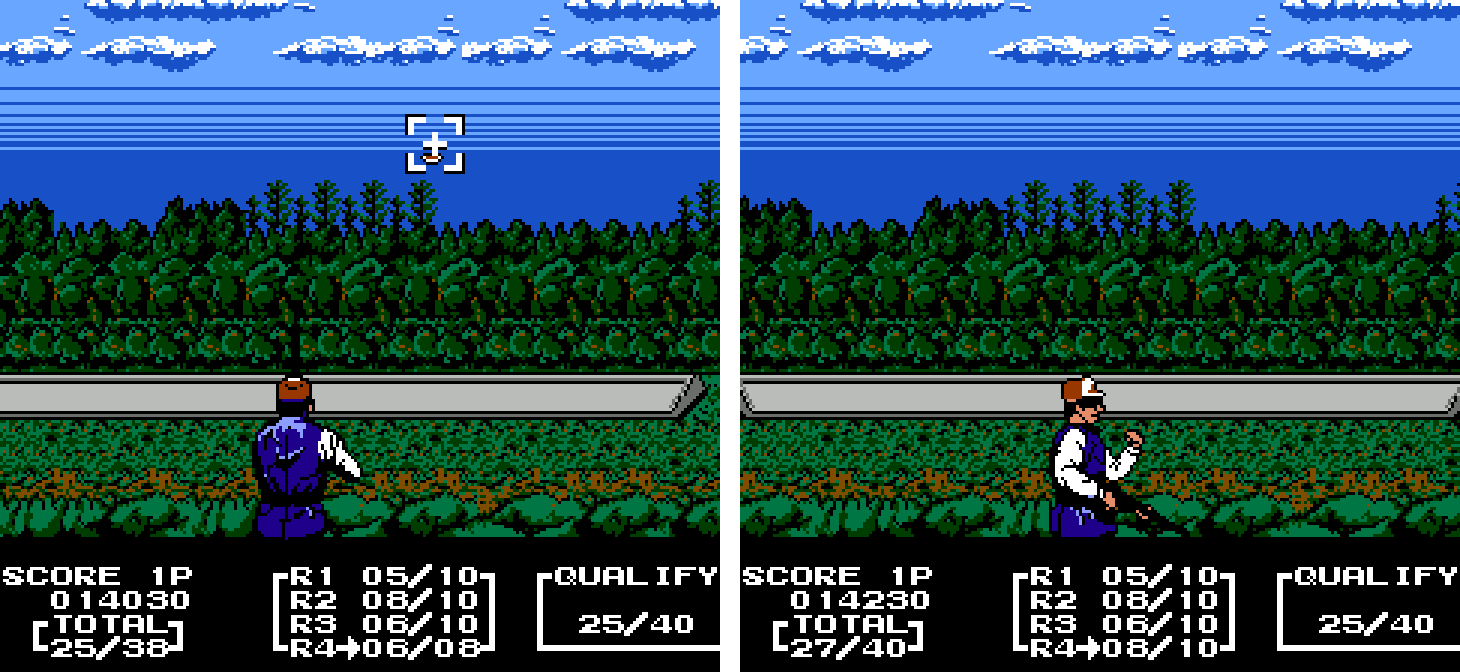 This is one of the few events that's not just a pure mash-fest. Clay Pigeon shooting can just about qualify as being fun, with an appropriately NES-level of difficulty. There's no button mashing at all, just pure reflexes. Of all the events in this game, this one might bear the closest resemblance to the sport it portrays. It plays like a more enjoyable version of the clay shooting mode in Duck Hunt. It works with the NES Zapper, in case you happen to have both one of those and a CRT lying around. The big sprites and parallax effect on this one are even nice looking.
Score: 8/10
Hammer Throw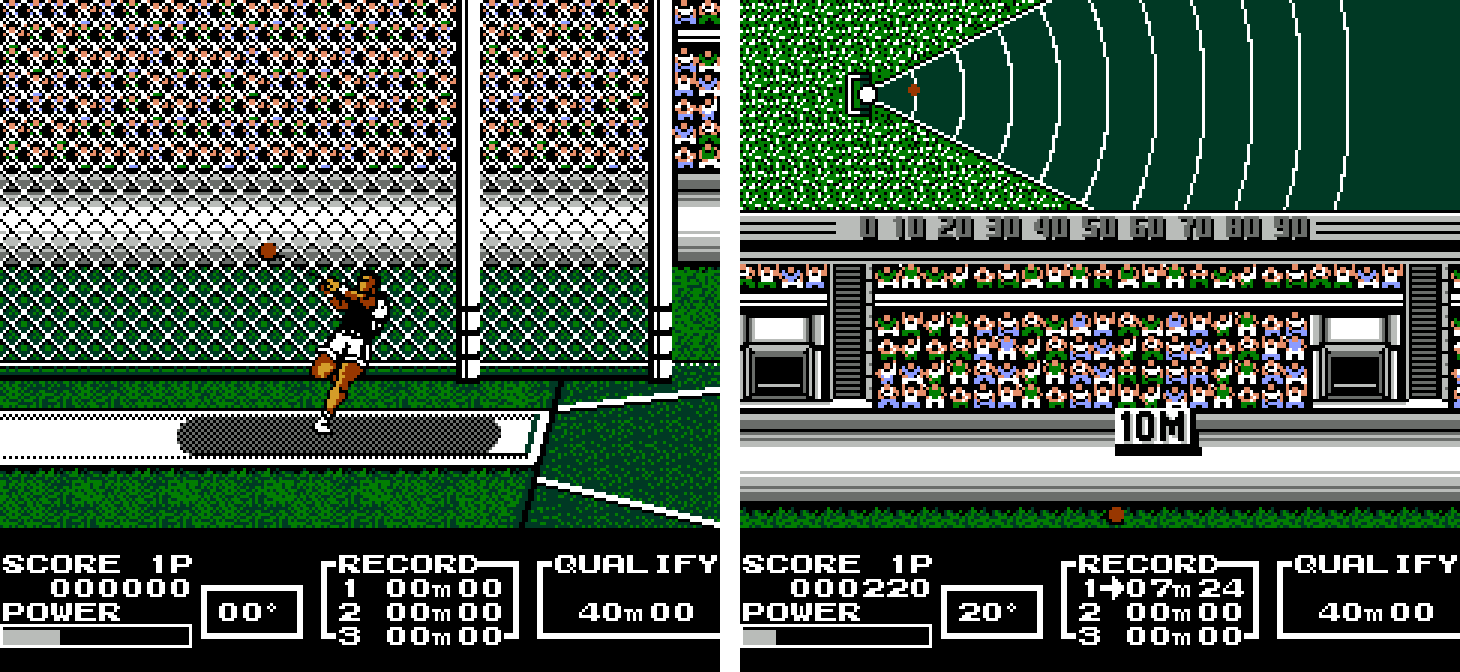 Hammer Throw is unique in that it involves button mashing and D-pad mashing. Spin counter-clockwise around the D-pad and eventually hit a button. Spinning around the D-pad is so thoroughly unenjoyable that I didn't really care to try to get this one right. This one is just terrible, and that's all I feel like writing about it.
Score: 1/10
Taekwondo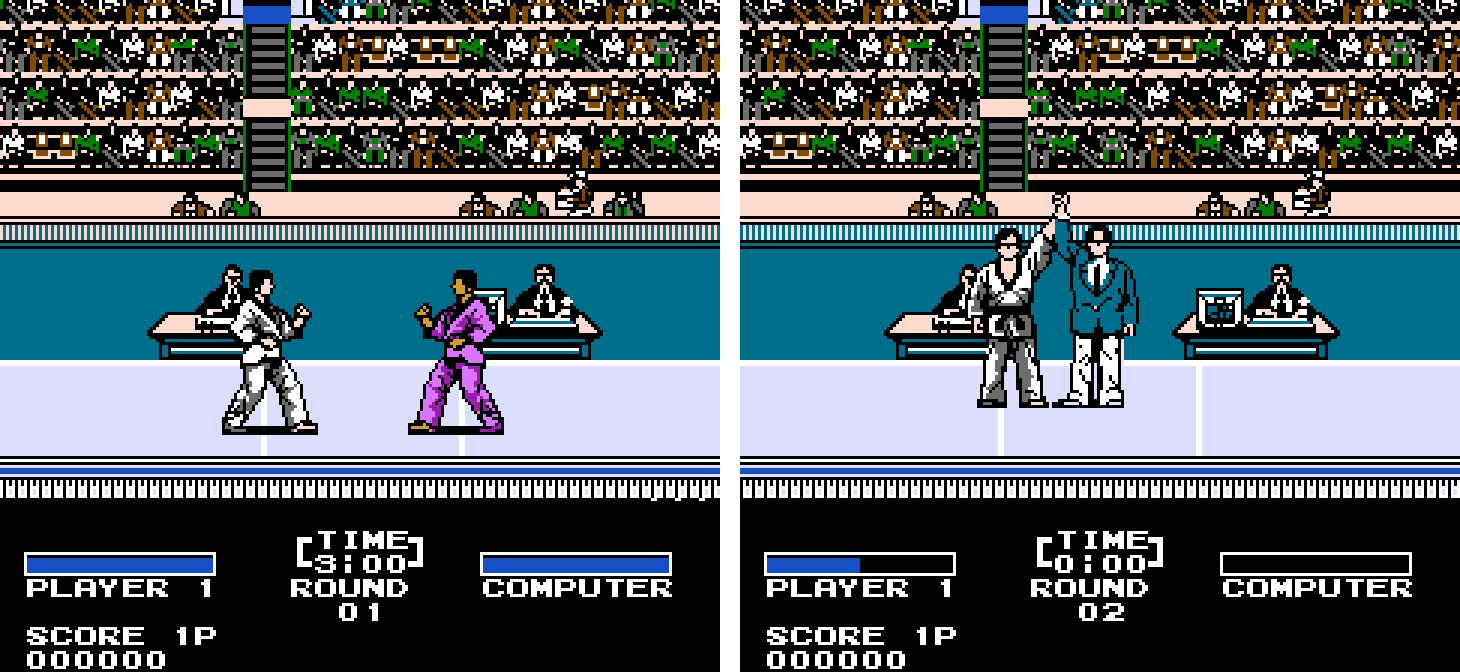 More button mashing. Imagine, if you will, Street Fighter II, but with no special moves, a life bar that makes no sense, and also your player (or your opponent) just seems to get randomly knocked down. This isn't the worst event, but it is very confusing. The life bar works its way down to a knockout, but you apparently get knocked down before. At any rate, just press toward your opponent and kick and you can usually win pretty easily. It's fine.
Score: 5/10
Pole Vault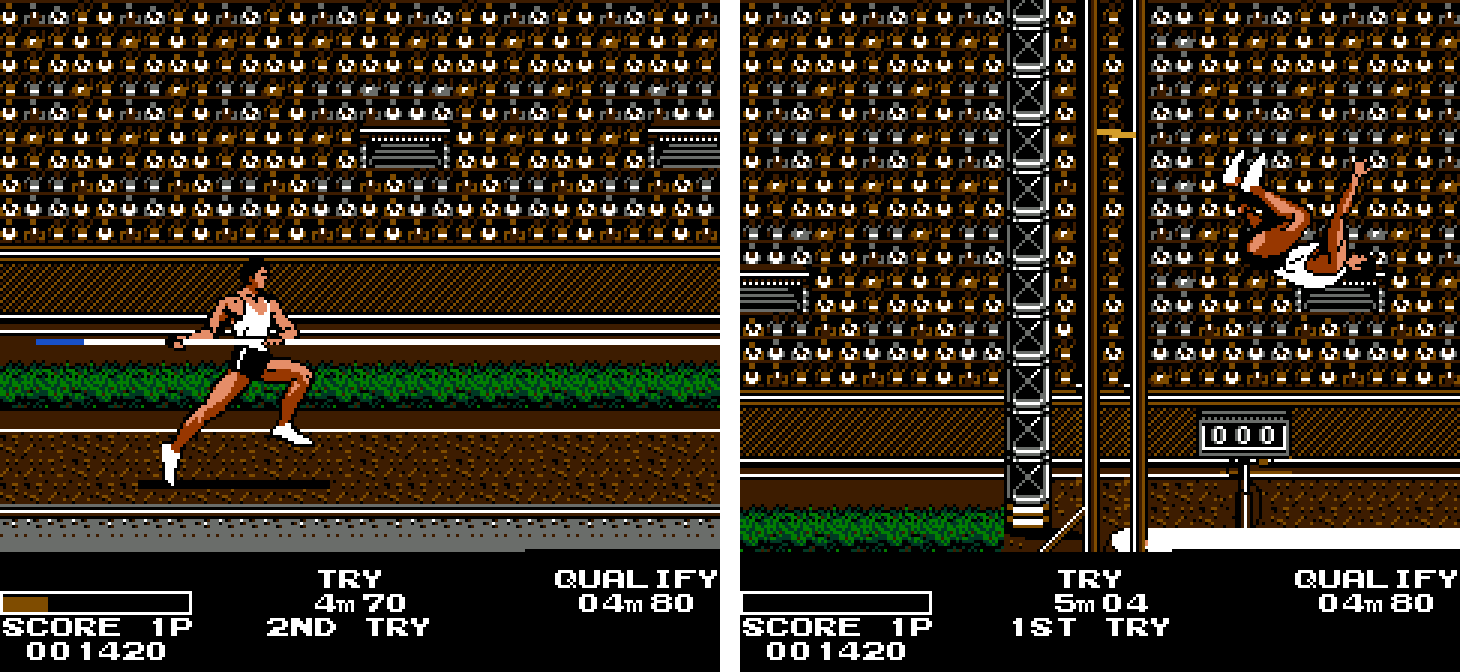 Pole Vaulting, like the Triple Jump, is another one that requires vigorous button mashing followed by a quickly timed split-second hold on the B button. I was able to get the hang of this one with the help of rapid fire, but I could never quite make it over the 6-meter bar. This event also has nice, big sprites and makes great use of the NES's color palette. The way the screen pans past your runner, bringing the focus onto the tip of the pole is a nice design choice.
Score: 5/10
Canoeing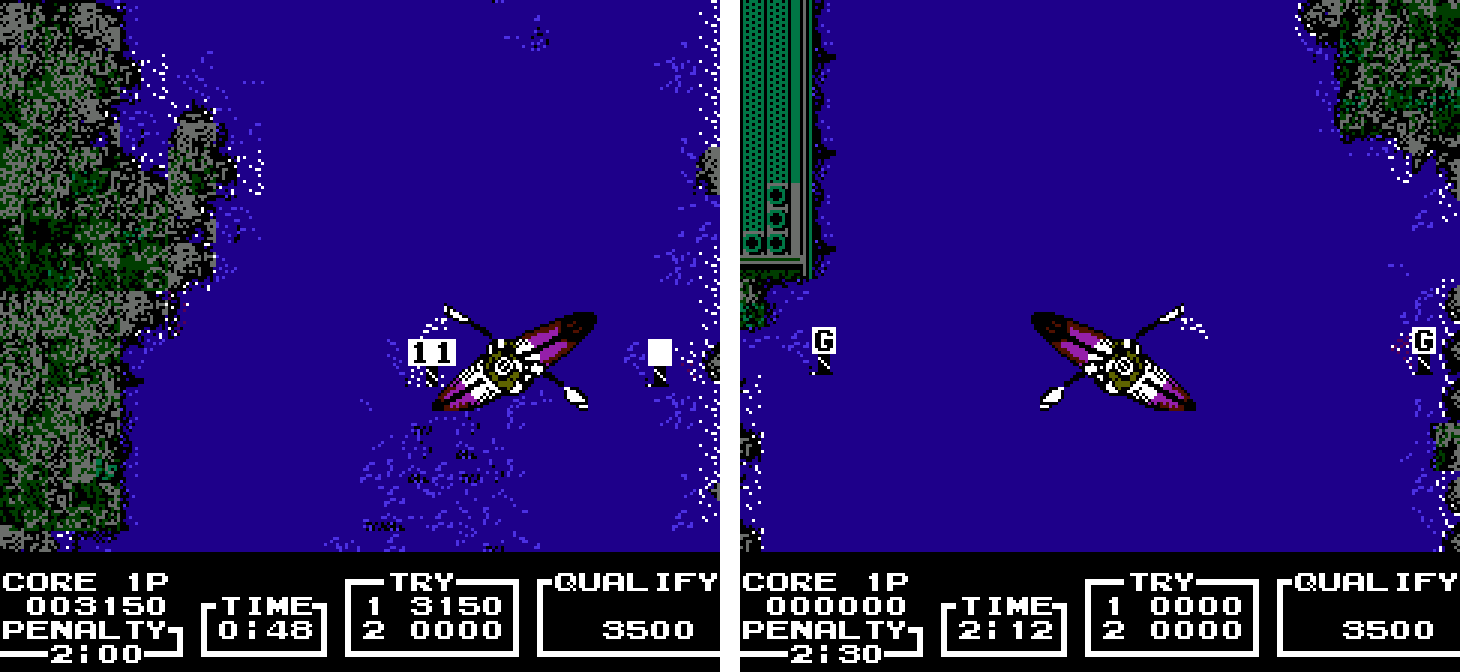 Canoeing is actually fairly challenging and fun. A certain amount of button mashing is present here, but in this event it makes some sense. The button taps represent strokes of the oars, not just building up power, as in other events. This is also the one event where Nintendo Power provides even a modicum of assistance, with the map being a handy guide to which type of gate is next, and which direction to paddle to get there. Like most events, this one only makes sense if you read the manual. The gates are labelled with symbols representing normal, reverse, and loop, although you'd never know that without help from the manual.
Score: 8/10
Archery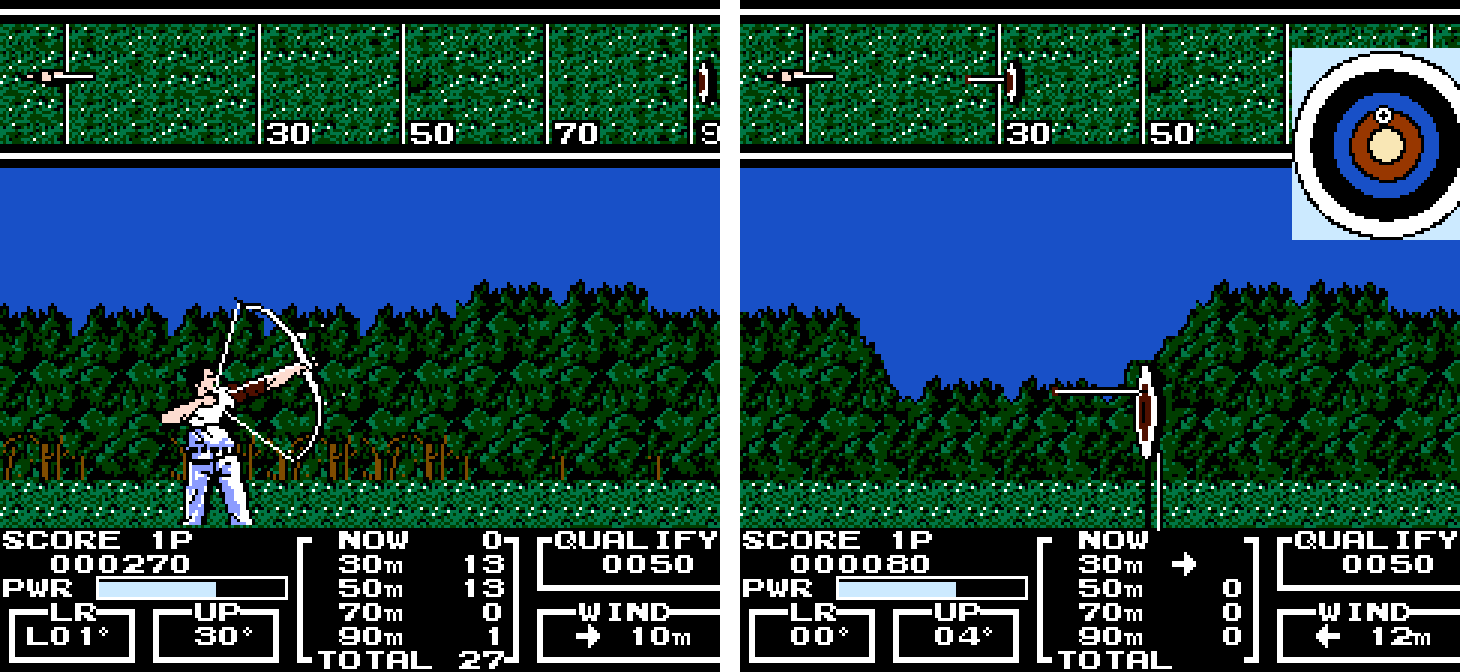 Archery is actually a pretty interesting event. It's got the obligatory button mashing, but there's actually some skill and strategy involved. You need to aim arrow along two axes while accounting for the wind. This event has a nice overhead view of how your arrow travels in addition to the side view for aiming. Using rapid fire on this one instead of mashing the A button actually makes this one fun, although I was never able to figure out how to land a 90-meter shot with a strong headwind.
Score: 8/10
Hurdles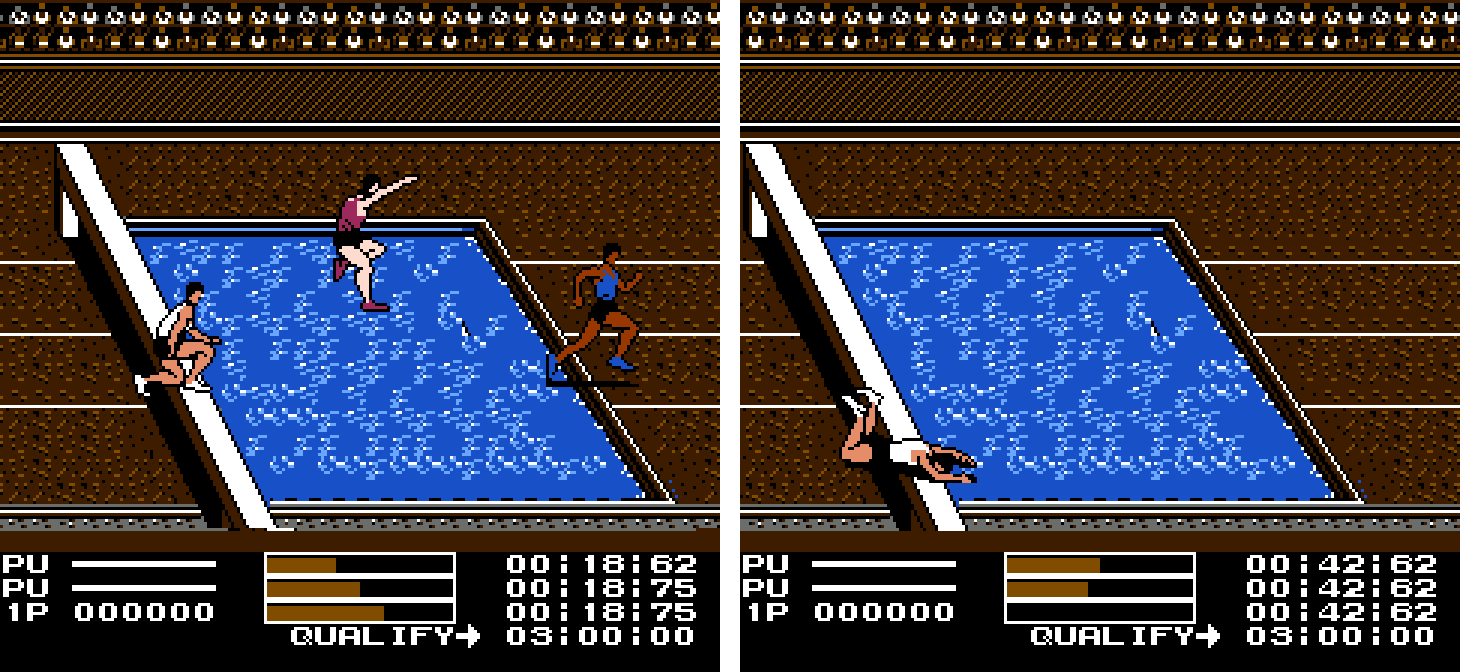 This is the most painful event of all. It's just pure button mashing with a little bit of timing. Unlike a lot of events, the controls on Hurdles are actually perfectly clear, making it one of the less frustrating events. The problem is that you need to mash A for the entire race. I'm convinced it's just not possible if you hold your controller with a normal grip. If you place it on a table or hold it against your chest, you'll have better luck. Rapid fire makes this one much easier, letting you focus on timing the hurdles, but it is possible to win against the computer if you've got the forearm and wrist strength.
Score: 2/10
Horizontal Bar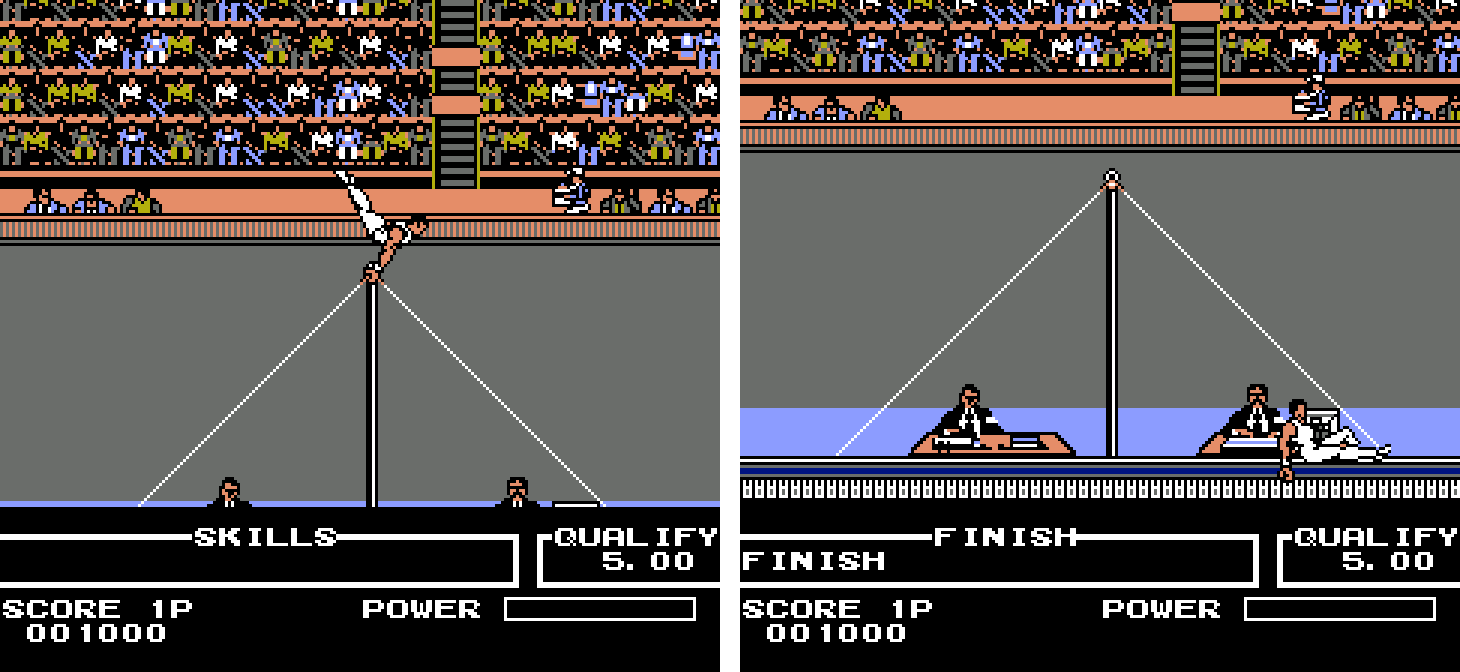 The Horizontal Bar is very much along the same lines as the high dive, except instead of choosing a dive, the game randomly cycles through possible moves. Naturally, you're mashing A the entire time, and when a move you like flashes on the screen, you tap B. Eventually FINISH flashes on the screen and you're realize you're one last button press away from ending the entire game.
Score: 1/10
Also in this issue
Let's break down everything else noteworthy from the November/December 1988 issue of Nintendo Power. Trust me, things can only get better.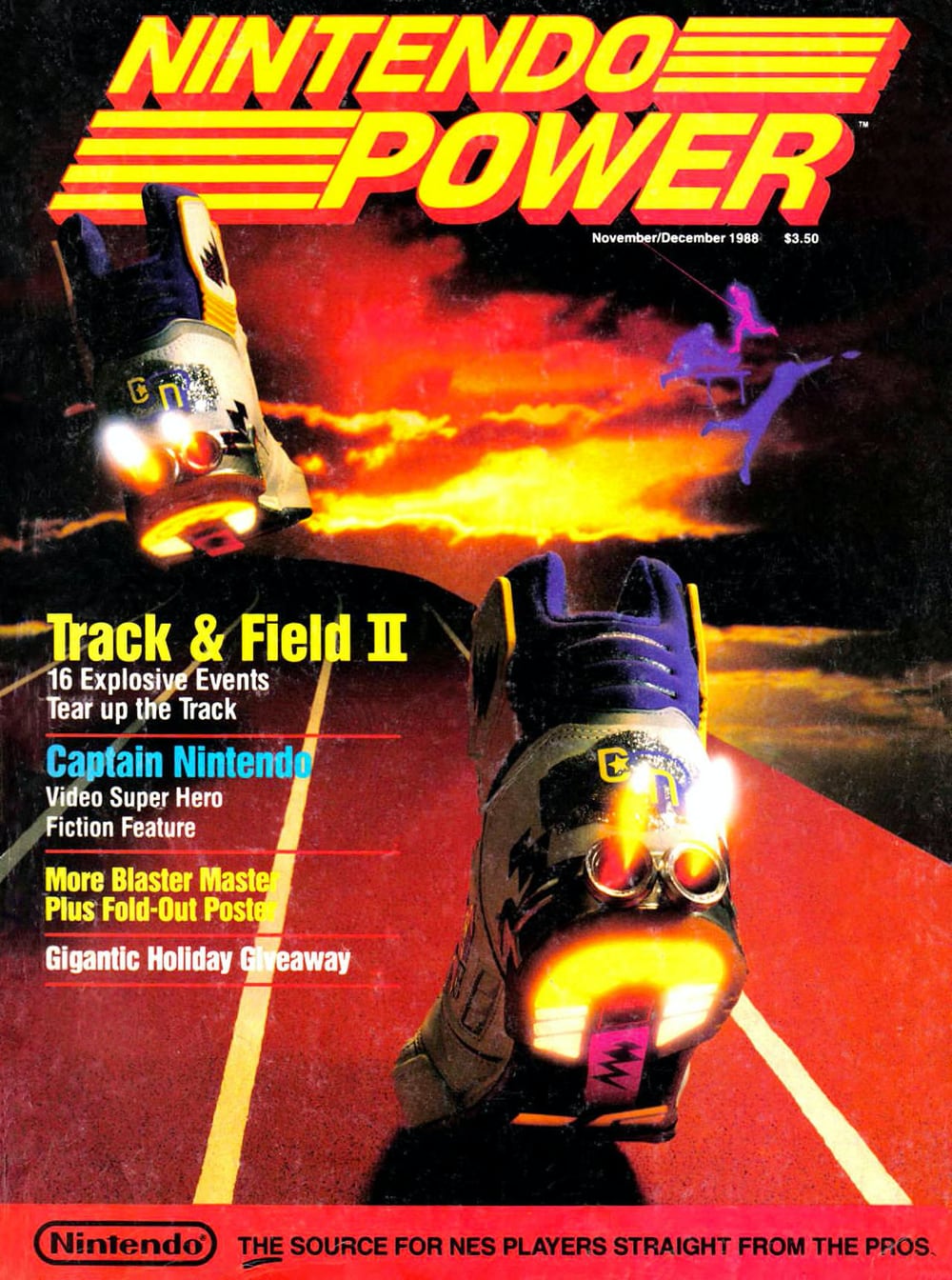 Track & Field II
A completely worthless spread for a cover game. The closest thing to strategy in this game is well-timed button mashing, so I'm not sure what a better feature on Track & Field II would even look like. The pages are heavy on illustrations because there's really nothing to say. Most of the text is devoted to explaining what the buttons do, but it somehow manages to do a worse job of this than the game manual.
Other featured games
There another pretty useless feature on Mickey Mousecapade, which is a game that I remember existing, but unlike Track & Field II, it's the kind of game that I don't remember anyone owning.

This issue also covers Blaster Master, which should have been the cover game. The feature covers the first two levels, including detailed maps maps for the side-view and overhead parts. This game was absolutely sprawling for its day, and it's one that I actually did own. I finally played through and beat it last year. I never realized quite how far I made it in the game, which I can probably credit to this issue.

In the late '80s, Nintendo was desperate to introduce role-playing games to American audiences, even going so far as to publish and give away free copies of Dragon Warrior with Nintendo Power subscriptions. This issue contains a feature on Ultima and Legacy of the Wizard. The feature explains the ins and outs of RPGs, including character classes, items, and combat.

And also… I swear I've played Anticipaton, but looking at the six pages devoted to it, I don't remember this game one bit. Four are devoted to Blades of Steel, which is possibly the definitive sports game of the NES era for me.
Highlights from Counselor's Corner and Classified Information
Counselor's Corner had some questions on Metal Gear, Rambo, Double Dragon, and Gauntlet. I love seeing the classics like these show up in these columns. OK, so maybe Rambo wasn't a classic, but a friend of mine owned it, and I used to love trying to play it. I never had any idea what I was doing, but I do remember getting killed by birds all the time.

There's a great warp tip for Gradius in Classified Information. I can't say for sure that I've ever even heard of Seicross, Zanac, or Deadly Tower, but they all get a tip.

The highlight of Classified Information is a tip for getting to the minus world in Super Mario Bros.. It's not a particularly good tip, since it doesn't describe the technique very well, but it's still fun to see such a legend appear in print.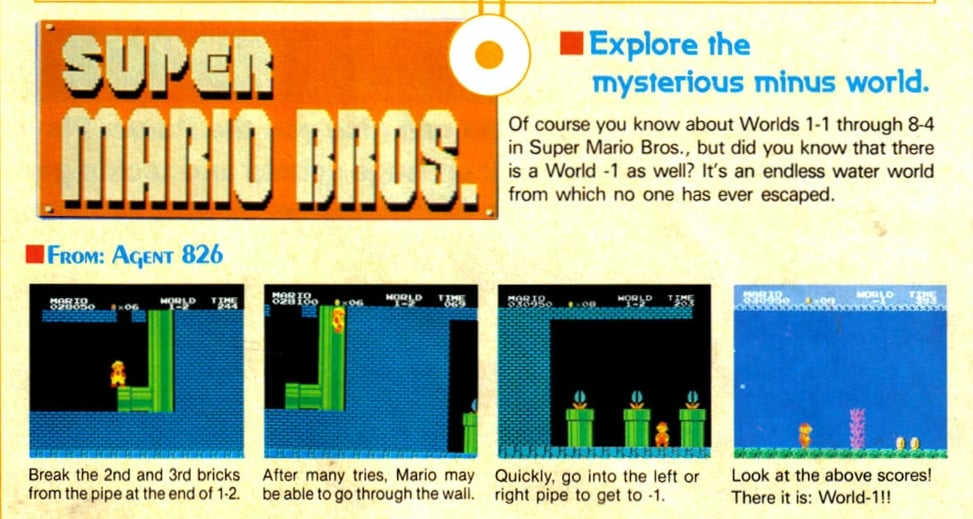 Pak Watch and Video Shorts
Video shorts has some more legends: Bubble Bobble, Paper Boy, and Tecmo Bowl are all featured. Less notable, but meaningful for me are Dr. Chaos, which I know nothing about, but I remember seeing in KB Toys at the mall all the time, and Milon's Secret Castle, which the same friend who had Rambo owned. Every kid's dream, the NES adaptation of Oliver Stone's Platoon also makes an appearance.
Pak Watch shows off Wrestlemania, California Games, Skate or Die, Spy vs. Spy, and the Power Pad among others.
Random bits
There are lots of ads for cool Nintendo merch and accessories. I might have had some of this stuff, or maybe I just dreamed about it enough that I think I did. This issue also features a three-page short story: The origin of Captain Nintendo, better known as Saturday morning's Captain N: The Game Master.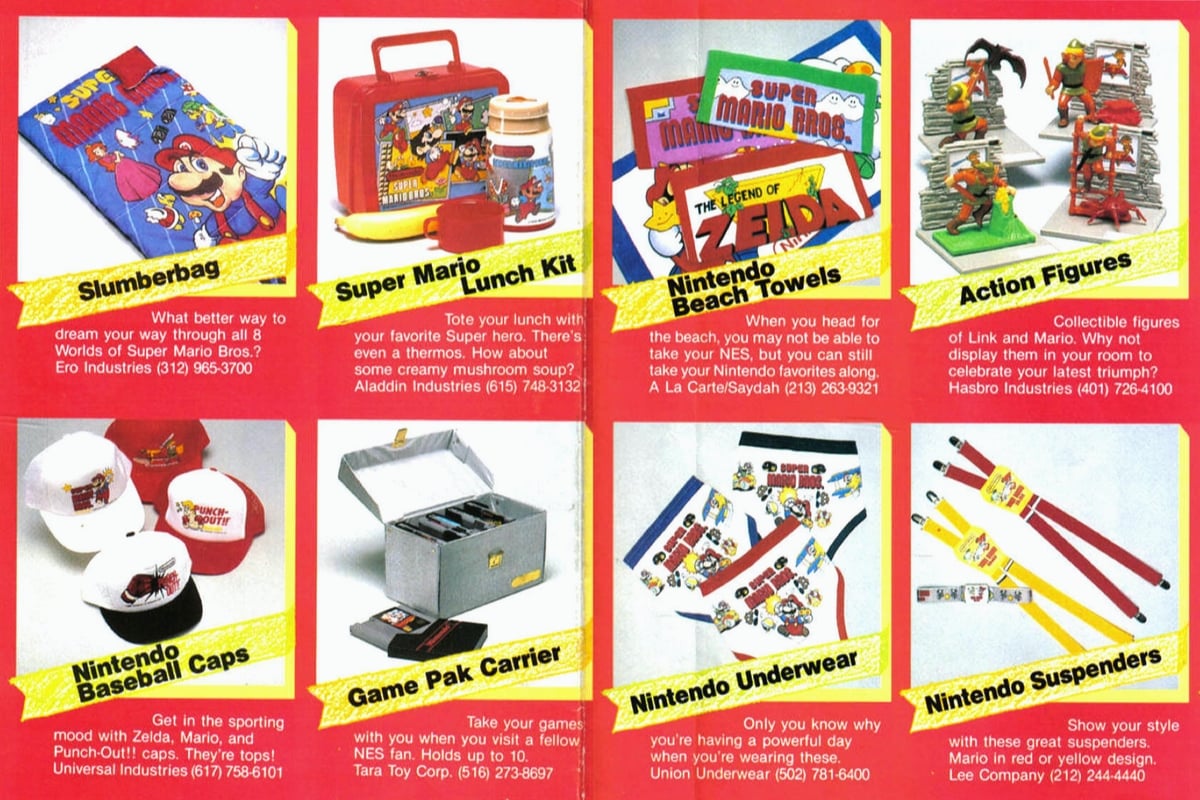 The Player's Forum has a profile of Tonight Show guest host, and Doritos pitchman Jay Leno. Perhaps you've heard of him? I do distincly remember this Doritos comemrcial. I find it incredibly relatable to know that Jay Leno used bring along his NES to play Zelda until all hours of the night when he was doing standup in small towns. I do exactly this with emulators on my computer and Raspberry Pi when I travel for work.
And finally
Track & Field II was just brutal, but I'm going to take it as evidence that can make it through any terrible NES game if I set the extra buttons on my controller to rewind and speed up emulation. Tedious button-mashing is tolerable if you can enable rapid fire, which is exactly what I imagine players who actually enjoyed this game did every time. It didn't help matters much that, cover art aside, this wasn't exactly a classic issue of Nintendo Power.
Next in the series is Zelda II: The Adventure of Link, a game near and dear to me. Unfortunately I just replayed it a year or so ago.