Case Study
Building UX and Content Strategy maturity
In 2018, I joined the American Physical Society in a new position, established to build practices in research, user experience, content strategy, and overall governance of the society's web properties.
APS, a storied nonprofit membership organization devoted to advancing the many fields of physics, had established its web presence in the early 1990s. As the organization's online portfolio expanded, its practices evolved to be reactive to stakeholder desires, with no formal web governance practices, and little awareness of user needs.
Getting started
I knew from the start that since this was a situation that took decades to take shape, it would take some time to discover the extent of the need and set things on a sustainable course. Along with developing UX and content strategy maturity and developing better practices, we identified a need to launch a new primary website for the organization.
The first challenge was the lack of an existing team to execute on any work — I started the position with a single report who was already at capacity. Compounding this was a siloed company culture, making it difficult to convene and get buy-in from stakeholders.
Without an existing team, I had no choice but to start small. I brought on a freelance content strategist I had worked with before to assist with content audits and ecosystem analysis. Our initial work turned up thousands of unstructured, mostly forgotten content items, most of which had never seen more than a trickle of views. This also helped shine a light on not just what we had, but how the situation came to exist.
The approach
The first thing I realized was that with no governance processes in place, our stakeholders simply wanted what they wanted. In this environment, cross-functional collaboration was going to be met with resistance, but we could make use of the organization's tendency to rely on external recommendations over staff.
Here's how I approached the situation:
Start small and demonstrate success. Quick wins were possible, and what we would need create buy-in for bigger work to come.
Parlay small wins into new opportunities. I couldn't bombard our partners with demands for best practices, but each win created an opening for something they would not have previously been comfortable with. What started with formatting suggestions would eventually parlay into a growing practice of qualitative user research.
An agile approach would be needed. A "move fast and break things" approach was not going to be an option, but moving incrementally and a willingness to adapt would be critical.
Bridge the resource gap. Stakeholders and leadership tended to listen to external recommendations, so bringing on freelancers and consultants could help us not just get the work done, but to sell it.
Hire deliberately. There were no guarantees about exactly the team I'd be able to hire, so I had to make each position count, even if it meant moving slower.
Delegate and empower. The team would be empowered to engage, not just fulfill. What started as turning around requests would become eventually become conversations with stakeholders that we could use to identify the real outcomes they were seeking, and find solutions more likely to get us there.
Grow the skills we can't hire. The team I eventually assembled came from diverse backgrounds, but they were all eager to learn. By identifying adjacenet skills, I was able to help existing team members develop new competencies in content strategy, content design, accessibility, and governance.
Socialize standards. Best practices can only go so far if only one team can sticks to them. By incorporating existing standards, such as our style guide, into a comprehensive design system, we could create awareness of all standards and practices among the broader organization.
Never stop improving. There's no use doubling down on bad investments. Whether it was a second attempt to improve a workflow, or a streamlining of our information architecture, we had to consider everything a sunk cost.
Lanes, not rails. It's impossible to know where it's acceptable to drive without first establishing roads. Only once we have roads, can we determine if, when, and where it's ever acceptable to drive off of them — but we do recognize that the need exists.
None of this is for me. And it's not for the stakeholders either. Our work together needs to connect to the big picture, achieve the goals of the organization, and serve the needs of the users.
With some general principles in place, I advocated to bring on a consultant to help with deeper analysis efforts. We produced an ecosystem map and kickstarted our research practice, conducting user interviews, and an invaluable Top Tasks analysis. A parallel staff survey uncovered a gulf between how users and stakeholders perceived our our offerings.
Over two years, the team took shape, eventually encompassing several new roles:
A project manager, to manage requirements gathering, research activities, and planning for larger projects, and to ensure the smaller day-to-day tasks didn't become blockers for the team.
A content strategist/writer, to engage with stakeholders to begin producing more user-centric content based on real user needs.
A strong generalist in UX and development, as my primary backup, to engage with stakeholders, establish research practices, and pinch-hit on both design and light front-end development.
A managing producer, to develop consistent, sustainable workflows, get in front of incoming requests, and enforce the standards in development.
A production team of three, to field routine requests and directly manage content entry, including two employees reassigned from another department, which helped us to further consolidate workflows.
A common trait across the entire team was a willingness to pitch in and take on new types of work. New projects were springing up in parallel with our transformation efforts, while it wasn't yet possible to stop the firehose, this team could now attempt to contain the flood.
While there was little initial access to users, other research methods, including analytics and surveys, helped demonstrate that we could produce more effective outcomes than what the requests contained. Small steps like these got us headed in the right direction.
While the team grew, I continued to bring on both individual freelancers and agencies to help with discrete projects and more expansive efforts. Our engagements built on the earlier research, with additional surveys, workshops, and interviews, informing recommendations including brand personality, design, and technology ahead of a large-scale redesign.
Building on our efforts, and producing results
While contractors augmented the team in some areas, I was pushing both the team and organization ahead in others. While there will always be a place for external help at APS, we can't rely on consultants for everything. It was critical to establish baseline practices and capabilities within the organization.
Among the efforts my team and I spearheaded:
Qualitative research practices
Surveys, analytics, and tooling can only tell one side of the story. We asked for and received budget to fund interview recruitment incentives, and began a regular practice of actually meeting users face-to-face. These efforts quickly bore fruit, providing new insights into how users plan their time at our scientific meetings, as well as how they use our tools during meetings. In addition to interviews and usability studies, we were able to undertake limited field studies of how attendees make use of our resources during these important events.
Additional research efforts have focused on the needs department leaders in higher education, producing effective learning resources for K-12 educators, the needs of prospective society members, and more.
Feedback loops through prototyping
I came into an environment where stakeholders wanted what they wanted, and exploring solutions was viewed as a nonstarter. We uncovered that often, our stakeholders were not actually the final authority, but were accountable to committees comprised of society members or other community volunteers. What initially appeared to be resistance to collaboration was often a manifestation of challenges inherent in acting as go-between on complicated technical topics.
Through hard-won trust and an inquiring, empathetic approach, we were able to explore problems and identify appropriate, often simpler, solutions using both HTML and Figma prototypes. The prototypes helped our stakeholders to bridge communication gaps with their stakeholders to get buy-in before testing with users. This approach ultimately helped us to deliver the actual results our stakeholders had been tasked with producing.
Structured, connected content
With the vast majority of our publishing activity previously driven by stakeholder requests, I found virtually no discernible, consistent structures among our content. We didn't have a content management system, so much as we had a web page management system. We couldn't hope to improve root causes and institute a governance framework, unless we also had some protections in place.
Beginning with domain mapping workshops, I began an effort to implement structured, connected content. My team and I sat down with stakeholders to understand the actual relationships among our real-world activities, classifications, people, and goals to produce highly-structured content models to sit at the heart of our publishing activities. The result was a new CMS to power compelling, composable experiences that satisfy user needs while preventing the previous situation from repeating itself.
Content strategy
Responding to every request, no questions asked, is fundamentally incompatible with practicing content strategy. This is an area where we've made real progress. While consultants can provide advice and deliverables, and help you get up and running, effective content strategy requires a concerted, ongoing effort by an embedded team. By treating our content as a critical asset, worthy of investment, we were able to begin putting it to work to help achieve goals, instead of just producing more and more of it.
Just getting to square one required extensive staff education across many teams, but the efforts have begun to pay off. APS's content maturity, while still progressing, continues to build momentum.
Design system, governance, and standards
Best practices aren't worth much if they aren't shared broadly. A design system was going to be required if we were to socialize practices and continue to grow maturity. The APS design system incorporates ground-floor basics such as accessibility and information architecture, as well as content areas including content strategy, content design, and inclusivity, and a component library with usage guidelines. From the start, I knew this could succeed only if it was clear that the design system wasn't just one team's resource, but something that belonged to the entire organization.
While most people in the organization will never care about the nuances of when a designer might choose to use a toggle as opposed to a radio button, just reinforcing the existence of the design system can count toward success. It's critical for stakeholders to understand that the decisions we make are not arbitrary, but based on rules we've put research and effort into establishing.
By recruiting champions and incorporating resources produced by other teams' parallel transformative projects, such as graphic and photography standards, an internal style guide, and asset management guidelines, we extend our reach and further distance the organization from its ad-hoc practices of the previous decades.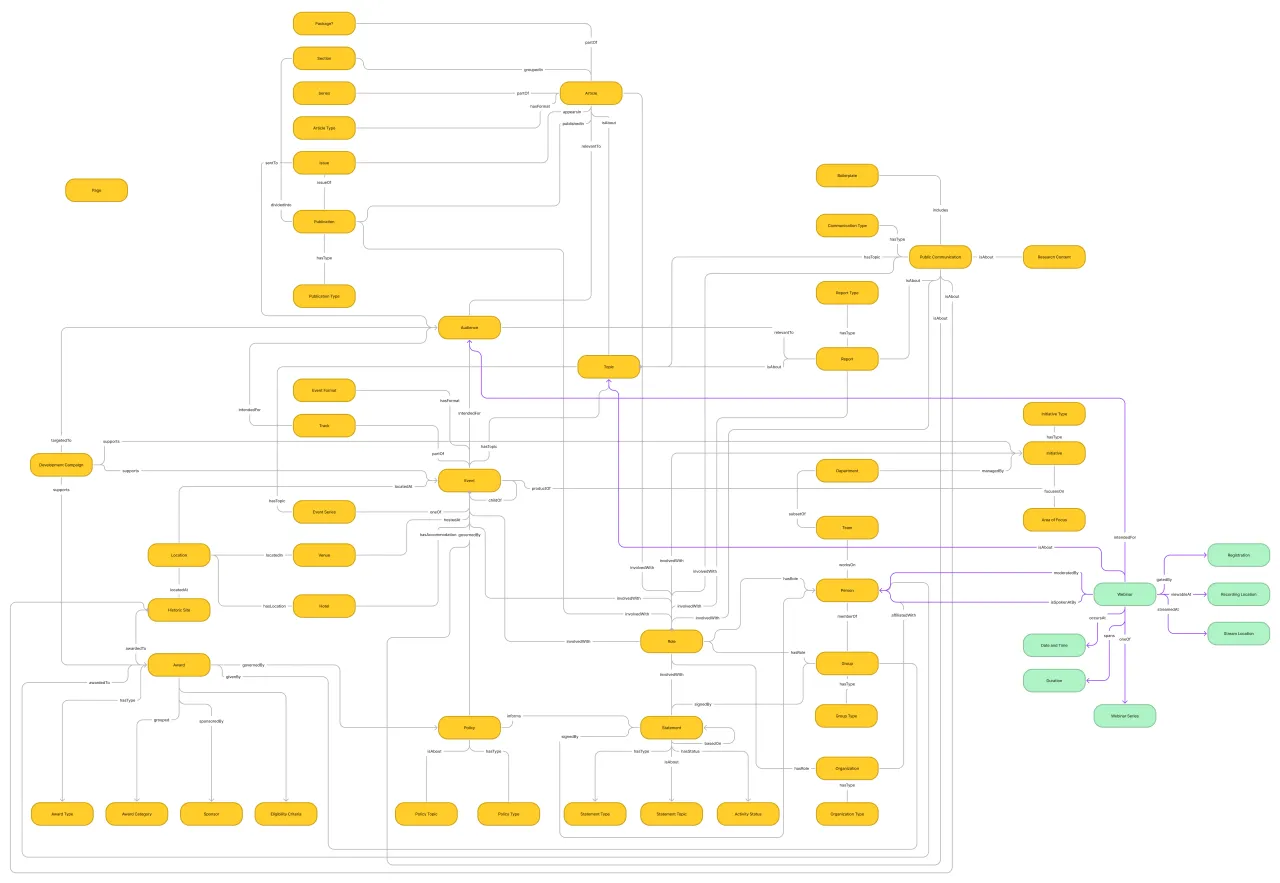 Where things stand
Building organizational maturity in UX and content strategy, even to intermediate levels, takes persistence and repetition more than any particular practice, tool, or output. Experience helps a great deal, but trust in one's colleagues, openness to learning, and a willingness be wrong and adapt go even further. Existing staff can learn new skills, take on new responsibilities, and drop the old practices. With a through examination of the situation, seemingly stubborn stakeholders may turn out to be looking for the help.
Progress may have seemed slow at times, and the work will never be done, but with the help of supportive partners and a team with the right attitude, we were able to make big changes happen.